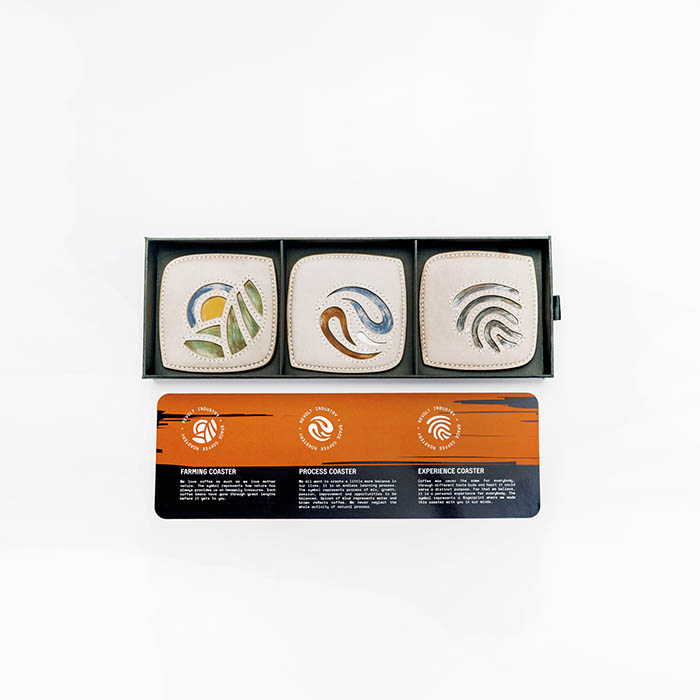 Shop Tools - Basic
Enjoying a cup of coffee was never just about drinking, it is a wholesome experience of process. The coffee plantation, the people, the places, the roasting technicalities, up to the brewing process, and finally enjoying a cup of it - it is beyond imagination how complex and intriguing the coffee experience is.

For those who are in love with coffee, these lengthy process is a distinct magical process worth celebrating - and our set of coasters represents the celebration of coffee. We use an incredible buffalo leather in shade natural as the main material. As your coffee journey embarks, the coaster will record your trace, resulting in a very personal and unique pattern imitating your cup of coffee.

With detailed cuts that we specifically made into three distinct symbols with hand painted strokes of vibrant colors, share deeper conversations and experience about coffee with your friends while enjoying your best cup of coffee served on top of the coaster.

These symbols were stitched onto each coaster is to represent a meaning of their own.

1. Farming Coaster
We love coffee as much as we love mother nature. The symbol represents how nature has always provides us on heavenly treasures. Each coffee beans have gone through great lengths before it gets to you.

2. Process Coaster
We all want to create a little more balance in our lives, it is an endless learning process. The symbol represents process of mix, growth, passion, improvement and opportunities to be balanced. Splash of blue represents water and brown reflects coffee. We never neglect the whole activity of natural process.

3. Experience coaster
Coffee was never the same for everybody, through different taste buds and heart it could serve a distinct purpose. For that we believe, it is a personal experience for everybody. The symbol represents a fingerprint where we made this coaster with you in our minds.
Total amount:

IDR 244.500